What is BulletProof Coffee anyway?
The mechanics of large companies are generally so slow, and have so much friction, that the lag between a new trend arising, and them hopping on it is somewhere between "too long" and "not worth it now… the moment has passed".
So you can imagine my surprise when, happily strolling down the street, minding my own business, the following ad, hanging in the window of a coffee shop, caught my eye: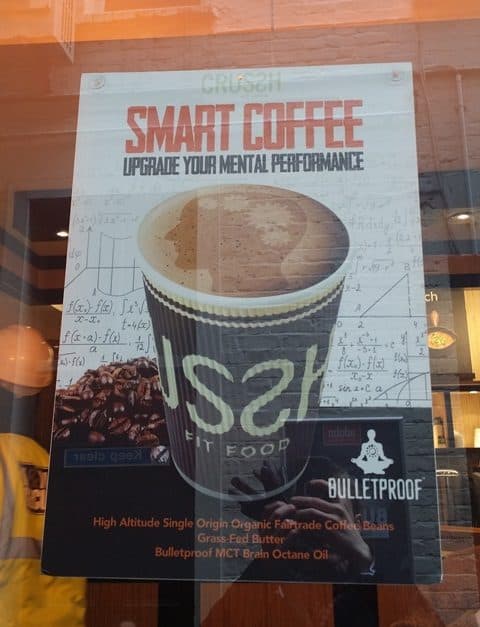 Now, if you're are bang-on-trend, American, or have one of those 'Ironic', Bilzerian face crimes, you'll already know all about Bulletproof coffee. If not, perhaps now is the time to look a little closer.
Unlike Bilzerian beards, Bulletproof coffee is on its way IN to fashion, and, allegedly, has some health value. You might look just as daft carrying one around on your person, but just like an ironic beard, it will give you something to talk about when someone asks…. and you know that you desperately want them to ask. Oh why won't they just hurry up and ask??!
Bulletproof coffee appears to have its origins at the The Bulletproof Exec site, allegedly dreamt up on the side of a Tibetan mountain, whilst Dan Asprey was out being ironic. "Jesus", he thought, ironic coffee in one hand, iPhone in the other, "… the world needs to know about this", and in the twist of a top-knot, it did.
For those that can't be bothered to follow the Bulletproof link above, here's the description…
So, I use the lowest toxin, highest performance coffee there is,I brew it, and then I blend unsalted, grass-fed butter into it, along with an extract of coconut oil that improves brain energy. Yes, butter. All the benefits of healthy milk fat with none of the damaging denatured casein proteins found in cream. It makes for the creamiest, most satisfying cup of coffee you've ever had. It will keep you satisfied with level energy for 6 hours if you need it, and because I'm having it for breakfast, I'm programming my body to burn fat for energy all day long!
Yes. Butter in your coffee. But wait. If this is almost TOO ironic. Yes, now go back and read the buzzword-o-gram advert in the first picture. Yes. Read it again. Yes.
…high altitude
…single origin
…organic
…fairtrade
…grass-fed
…brain octane oil
Shit the futon, this stuff must be amazing. I mean even the workman in the picture is getting his brain upgraded. The future has arrived!
So, if you're in London, and you've got time to padlock your fixie (of course you do, you're far too calm to let life wind you up, and if it does, you'll just get some headspace and relax with your close friend-but-we're-not-in-a-relationship un-ironic support partner) why not give it a go?
Like it? Let us know. We won't give a crap, but at least we might ask you about your beard.
Tagged:
bullet proof coffee
espresso