Your ultimate guide to Almond Milk Frothing
Decided to go for a vegan diet, reducing your dairy or simply just prefer the taste of Almond Milk? No problem. You can still make foamy cappuccinos and lattes without a drop of cow's milk in them.
Plant-based milk has a lower fat and protein content than dairy and has a very small sugar content. Sounds like a great idea to those struggling with hypertension, weight gain, skin problems, arthritis, and heart diseases. But although these qualities are great for heath, they're not good for steaming and frothing the milk., however all is not lost. Want to know exactly how to make amazing Almond Milk Froth? Read on…
Almond milk already has a creamy texture, a nutty, mildly sweet flavor before being steamed or 'drawn' so it's off to a good start before you even get it to the steam wand. With or without a frother, almond milk is pretty good for a creamy coffee.
We've taken a deep dive into the world of Almost milk Frothing (or Almond Milk Steaming as it's commonly known).
Does Almond Milk Froth?
Frothing is, no doubt, the silkiest when you steam dairy milk due to its protein and fat content. But the same fats and proteins are something modern diets tend to avoid, so you may be left wondering "does Almond Milk even froth?"
Yes, Almond Milk does froth, however, whilst diary based milk (commonly cow's milk) is well known for its silky, smooth and sweet texture when it's frothed; much of this comes from its high fact content. Dairy alternatives (such as hemp milk, oat milk, coconut milk, and cashew milk) have a lower fat content and so tend to not be as good for frothing… however, the best pick of the bunch is Almond Milk.
What to Look for When Buying Almond Milk for Frothing?
Just reading the packaging can sometimes help you pick the suitable almond milk. Here is what to look for:
Nutrition factor
Whether you are using almond milk for latte art, cappuccino, flat white or something else, it is always good to have something rich in nutrients and vitamins. Some almond milk brands are more protein-rich than others, while others have unacceptably high levels of sugar. Of course you should pick what's going to work with your own diert but do take a look at the nutrition label.
Sweetened or not sweetened?
Most almond milk brands are sweet and sometimes contain enormous amounts of sugar. Make sure the sugar levels do not exceed your daily sugar intake limit (about 30g/day for an adult). This check is especially important for those who avoid dairy milk for health concerns such as cholesterol levels, acne-prone skin, joint diseases, and obesity. Take for example the popular brand Alpro. Their standard Almond milk has around 2.5g per 100ml. That's 50% of standard 1% Dairy Milk
We recommend buying the unsweetened version as you can always add sugar afterwards and it's not going to affect its frothing ability.
The Flavor
Flavors are artificially added to the milk by the manufacturers. Most almond milk brands have a slight vanilla flavor, making milk's nutty flavor less recognizable. Do keep in mind that these flavors add to the calories per serving.
Chocolate flavor almond milk is an option, but it is not well suited for coffee and we'd really not recomming frothing or steaming it. It's not a great taste and it;s going to leave your equipment in a real mess.
Allergens
Though almond milk is naturally free of gluten and soy, the manufacturers might add these for the density consumers need for better frothing. Soy also adds a distinctive flavor. Always look out for these on the packaging if you're allergic.
The Best Almond milk for Frothing
You'll find many almond milk brands on the market but not as creamy and delicious as the ones we have most skeptical picked and shortlisted for you.
Almond milk brands are ranked according to the calorie-count, creamy texture, frothing abilities, and nutrient content. Pick the one that suits you.
If you are willing to pay more, then Goodmylk is the brand for you. Goodmylk combines everything at one good price.
Goodmylk Almond Milk is a unique and convenient pick as it comes concentrated in little, one-time-use packets for you to make fresh at home. With Goodmylk, you do not have to be worried about the shelf-life. This makes it an even better option for those who want to take their almond milk at work. Just grab a sachet and put it in your bag.
The packaging of the Goodmylk Almond Milk really stands out. The box in which the sachets come is huge and is packed with dry ice for insulation. Dry ice makes sure that the product stays frozen for days.
The milk is rich in vegan protein and tastes quite pleasant. It is thick, creamy, and has a unique nutty flavor with a little salty touch.
As long as the frothing is concerned, you just have to add water to it. However, if you want some extra foam, add the almond milk straight to your coffee.
Features
It comes in sachets, so no need to look for a date
Purely organic
Vegan-friendly
Great for frothing
Preservatives-free
Unsweetened, so low calories
Soy-free and gluten-free
If you want to pick some up – we'd approeciate you using our link, as it supports our work researching and publishing these articles.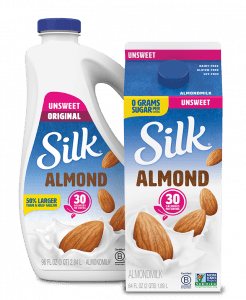 Just like our top pick Almond Milk, Silk is a respected brand too (yes, they have almost 20,000 positive reviews!). In fact, there isn't much difference in both of their products. They are free of gluten, soy, and lactose; the taste is almost the same, with the same creamy texture.
With only 25 calories per serving, this is the healthiest way to enjoy a frothy hot beverage. That is mostly because of it being unsweetened. Silk Unsweetened Almond Milk is free from any preservatives and chemicals added by manufacturers to enhance the taste. It's all-natural!
Silk Unsweetened Almond Milk is thick, creamy, and tastes amazing. It is an excellent choice for coffee makers as it froths well. The foam is dense and holds its body well.
Features
A healthy option with 25 calories per serving
No preservatives and artificial flavors
Soy-free, gluten-free and lactose-free
Vanilla flavored
Good for frothing
If you think Sulk might be the one for you, head over to Amazon and pick some up via our link.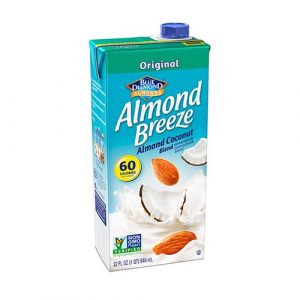 Almond Breeze Almond Milk is creamy, rich in vitamins, and comes with a great texture. The high density of the milk makes the frothing easy and produces quality foam.
Almond Breeze Almond Milk has a hint of coconut flavor, but you can also enjoy several other flavors. You should really check out the chocolate flavor. The coconut touch also makes the milk thicker and creamier.
Unlike many other almond milk brands, Almond Breeze uses real almonds. The almonds used are California Almonds which are the best in the country known for their rich flavor and nutrients. For those who are allergic, Almond Breeze is gluten-free, lactose-free, and soy-free.
The protein content is not as impressive as the other almond milk brands on the list. But it is still a healthy option as it provides only 30 calories per serving thanks to the zero added sugar.
Features
A hint of coconut makes it thicker
Contains real nuts
Soy-free, gluten-free and lactose-free
Only 60 calories per serving
Natural vitamins and minerals
Gives a thick froth
Some people are obsessed with a healthy, protein-rich diet. If you are one of those people, then this is the right choice for you.
Orgain Organic Almond Milk is incredibly delicious with a slight hint of vanilla flavor. One of the best reasons to go for Organic Almond Milk is its high protein content. The milk provides over 10g of protein in every serving! Compare that to Almond Breeze's 1 gram of protein per serving. Organic Almond Milk has zero sugar content, 50% more calcium than regular milk, and no artificial substance. This makes Organic Almond Milk the healthiest almond milk out there.
The protein in Organic Almond Milk is plant-based, thus an option for vegans. The milk is soy-free and gluten-free too.
Features
Protein-rich
High in calcium and vitamin D
Touch of vanilla
Unsweetened
Soy-free and gluten-free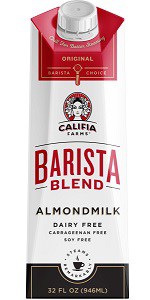 Lastly, we have Califia Farms Almond Milk, also known as the coffee master. It is the perfect match for lattes and cappuccinos. Unlike much other almond milk, Califia Farms Almond Milk holds its body when the foam is created.
It is especially for cappuccinos which require a relatively higher level of frothing. If you like to do some latte art, this is the almond milk for you.
Califia Farms Almond Milk has a nutty flavor and natural sweetness, making it suitable for coffee lovers. It has just the right amount of creaminess and works well with iced or hot lattes.
With every serving of Califia Farms Almond Milk, you take 2 grams of protein and 5 grams of sugar. The sugar content is not really impressive, but the calcium level is. Califia Farms Almond Milk has twice the calcium found in regular milk.
You should definitely buy this almond milk if you run a café or like a nice foamy layer on your cappuccino.
Features
Best for frothing and coffee
No GMOs and carrageenan
High in potassium and calcium
Sweetened
Soy-free and gluten-free
At last, I'd say…
Our final recommendation would be the Goodmylk Almond Milk because it is convenient to use, rich in nutrients, low on sugar, and provides nice and thick frothing.
You may feel like switching to plant-based milk such as almond milk to hike up quality eating can cost you a good frother. Yes. For a more effortless and barista-style frothy coffee or latte, frother can do wonders. But given the dependable fat and fiber content of almond milk, it can work well without a frother too. A little bit of practice, a little hit and trial with various brands, and you can enjoy the healthiest and the finest coffee every morning.
Tagged:
milk frother