Best Small Filter Coffee Machine – Top 5 Drip Brewers that Fit Anywhere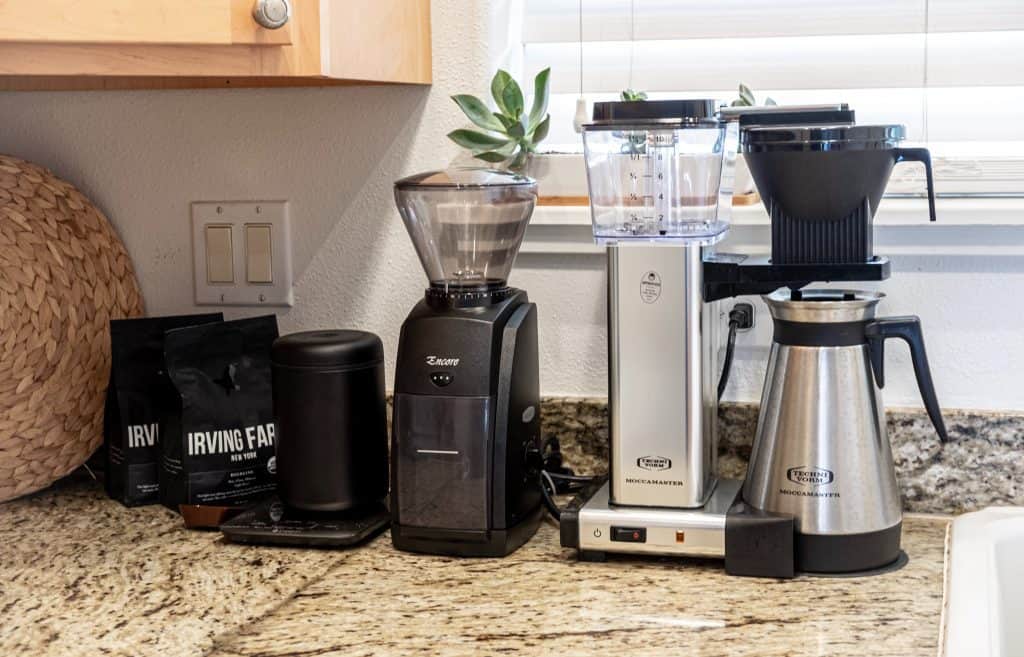 True coffee lovers can never turn down a hot cup of filter coffee. The smooth flavors of a traditionally made Joe have a unique charm. So as a true coffee-head, wouldn't you love to own the best small filter coffee machine – one that's small and fits in anywhere easily?
A small filter coffee machine is a handy device that will allow you to enjoy a nice brew anytime. There are many great filter coffee makers out there to satiate your desire for the rich aroma. So without further ado, find out about the best devices and how to pick the right one.
What is Filter Coffee?
Filter coffee uses coarse coffee grounds over which hot water is poured. This water passes through the grounds, extracting flavors from the beans. When it finally dispenses into a cup or carafe below, you get a brown brew rich with coffee essence and oils.
The coffee grounds stay back in a filter made of paper or metal. So, do you understand why it is called filter coffee? There's no pressure involved to extract the flavors from the beans, which is why making this brew takes a little time. What you get is a smooth and light brew.
What is a Filter Coffee Machine?
If you want to make filter coffee, there are two types of devices that you can use – a pour-over cone or an automatic drip machine. The pour-over cone is a more traditional manual device. You have to pour hot water over the grounds, and the coffee-infused water will drip down.
The automatic drip machine, which is more common now, works on electricity. Did you know that it was invented only in 1954? Wigomat, a German company, first devised an electronically-powered drip brewer. Nowadays, everyone wants the automatic machine as it's faster.
Features to Look for while Buying a Small Filter Coffee Machine
So you are about to buy a small filter coffee machine so you can make a cuppa that will give you just the kick you need to feel woken up. But at the time of buying this device, you must look for certain features that you must consider. Take a look at the following:
a) Temperature Control
Many filter coffee machines on the market offer temperature control. This allows you to adjust the heat level for the water to the optimal temperature for the best-tasting coffee. Temperature control is usually available in machines of medium or high price ranges.
b) Functionality
Some coffee makers have built-in features to make coffee-making convenient. Based on your lifestyle, needs, and budget, you can pick machines with timers, pre-programmed brewing cycles, etc. Coffee machines have different programmability levels, but they can be expensive.
c) Hot Plate/Thermal Carafe
A coffee machine must keep your fresh brew warm – and it can do that with a hot plate for the pot to sit on – or a thermal carafe with double-walled metal. A thermal carafe keeps the taste intact, while the hot plate offers the advantage of a transparent glass jar.
d) Capacity
Filter coffee makers can make you 1-2 liters of Java. If you want a small machine, a 1-liter device should be good enough to make you 4 decent cups of coffee. It is better to avoid a high-capacity machine if you don't drink frequently or not making for several drinkers.
e) Machine Size
Machine size is essential for many buyers. For those who have a small kitchen or dining area with little space on the countertop, a sleek coffee-maker is more important than one with too many unnecessary functions. Small machines are also great for cars, offices, etc.
f) Filter
Coffee machines may use paper, fabric, or metal filters. Paper filters need regular replacement. But a metal or fabric filter is permanent. Paper and fabric absorb some oils from the beans to give you cleaner, lighter cups. Metal doesn't affect the flavors of a full-bodied brew.
g) Grinder
There's no way to beat the taste of freshly ground coffee beans, for which you need a grinder. If you love all-in-one devices, pick a coffee-maker with an attached grinder. But it will add to the brewer size. Plus, the grinder may not be high-quality in a low-to-medium cost machine.
h) Material
If you are a health-conscious coffee drinker, you can look for a device that's free from BPA plastic. The best non-toxic filter coffee makers are usually made using toxin-free materials like glass and stainless steel. Check the body, lining, and other parts for plastic components.
i) Price
The price of a device depends on your budget. Accordingly, you can pick devices equipped with a wide range of functions. From a $10 pour-over brewer to a $300 programmable coffee maker, the options are many. So take your pick wisely.
Best Small Filter Coffee Machine: Top 5 Drip Brewers that Fit Anywhere
There are so many small filter coffee machine options that purchasing one can be pretty confusing. But don't worry! We are going to help you with the top picks! Now that you know how to pick the right filter coffee machine, it's time to check out our favorites.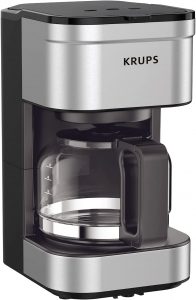 A filter coffee maker to cater to the needs of a small family, KRUPS Simply Brew is a stylish and compact device with a brewing capacity of 5 cups. You will love how easy it is to use, with just a simple On/Off button and a no-drip spout. It's ideal for a modern kitchen.
Pros:
Stylish look with attractive steel and black finish
Pause and Brew option to pour yourself a drink mid-brew
Automatically goes into Keep Warm option after brewing
Comes with a glass pot, reusable filter, and measuring spoon
Cons:
Does not include a user manual or instructions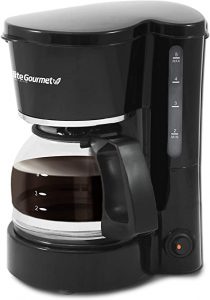 An easy-to-use brewer that comes in two sizes, Maxi-Matic by Elite Gourmet is perfect for individual users or a small family. It's a simple, no-frills device without special programming. You can operate it with a single On-Off switch for a quick fix whenever you need it.
Pros:
Semi-transparent water reservoir with level indicator for easy checking
Pause and Serve option to grab a quick and light cuppa mid-brew
Reusable filter basket to prevent regular replacement and reduce cost
Compact design that comes in two stylish colors, black and silver
Cons:
Cannot fit larger "to-go" cups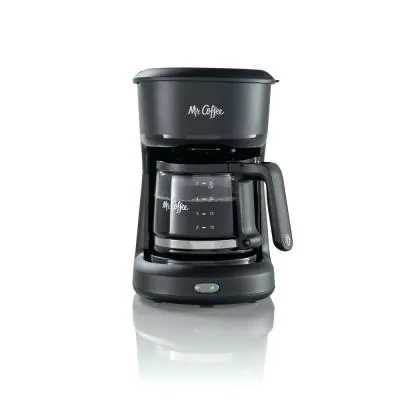 A small filter coffee machine that makes up to 5 cups of coffee, Mr. Coffee Mini Coffee Maker is a programmable brewer. It allows you to set the time of the brew so that you can wake up to fresh coffee. It's so compact that you will be able to fit it into any small space.
Pros:
Grab-A-Cup option to pause and pour a drink before brewing is done
Ergonomically designed carafe with markings to allow easy handling
Brew Later option to set the coffee maker to start making coffee ahead
Water window to view the exact level of water and prevent overflow
Cons:
Does not include an instruction manual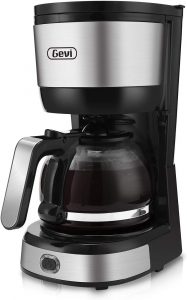 If you're looking for a small filter coffee machine for your home or office space, Gevi Small Drip Coffeemaker might be perfect for you. The device brews 4 cups of coffee in minutes and can be operated with a single touch of a button. Plus, it takes little space on countertops.
Pros:
Brew basket strategically placed for easy front access
Comes with a dishwasher-safe pot and reusable filter
Grab-A-Cup feature to take a quick cup mid-brew
Non-stick hot plate to keep your brew warm for 2 hours
Cons:
Not for users looking for large cups of coffee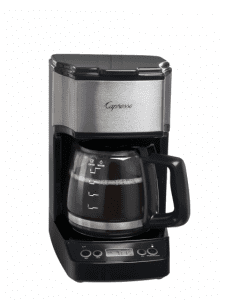 A compactly designed drip coffee maker for 1-2 drinkers, Capresso Mini Drip Coffee Maker, is perfect for making 5 cups. It is a programmable brewer to preset the time of the brew. Its digital LCD allows you to view all options and time for quick operations easily.
Pros:
Gold-tone permanent filter to prevent messy paper filter replacements
Can be programmed to set the time of the brew beforehand
Non-stick hot plate to keep the brew warm for 2 hours
Drip Stop feature to grab a cup before brewing is done
Cons:
Needs careful usage as the carafe material is thin
Final Words:
You will find advanced coffee makers that promise to provide barista-quality filter coffee to you. They'll also offer high-end programmability. But don't forget to consider your budget while choosing the best filter coffee maker 2021.
It's easy to give in to the temptation of spending a little extra to enjoy more features. But ask yourself – are you really going to use them? If you have limited space on the kitchen countertop or office desk, focus primarily on the size and lightness of the coffee maker.