The Best Filter Coffee Machine With a Timer
If you're not a morning person, you may need a cup of coffee to wake up completely. But it's quite a pain to brew a fresh batch of Java right after leaving the bed, right? What if you get to know that the best filter coffee machine with a timer will solve this problem?
Most brewers with a timer are programmable machines that allow you to preset the time of brewing your drink. They also come with a range of other features that can make the process of managing brews and your machine on a timely basis much easier.
Let's find out more about filter coffee machines with a timer.
Quick View: The Best Coffee Filter Machine with a Timer:
This is our pick for the top 5 coffee filter machines with a timer:
What is a Filter Coffee Machine with a Timer – and How Does It Work?
If you love filter coffee, a good quality brewer that can make some Java from fresh grounds is necessary. Some programmable devices come with advanced features, including a timer. This feature eliminates the reason to operate the brewer and many other functions manually every time.
The timer and programmability set this range of coffee makers from a regular filter coffee maker. There are different types of filter brewers. Most non-programmable filter brewers need you to pay attention throughout the duration of brewing the coffee to complete the task and ensure that you get the perfect taste.
On the contrary, the best filter coffee makers with a timer offer great taste – but do not demand your presence and manual operation for that. You can set the time of the brew beforehand and do not need to worry about small things like switching off the device, remembering when to clean it, or checking the clock for precise brewing time. 
The benefits of a Filter Coffee Maker with a Timer 
A programmable timer lets you choose the time of the brew in advance. In most brewers, this is 24-hour programmability. This means, if you want coffee in the morning, you can preset the brew time the night or the evening before – and wake up to the aroma of hot brew in the morning!
Such filter machines display the brewing time clearly, giving you the benefit of precision. This can make brewing good coffee a lot easier. You'll find it extremely easy to program the timer with the touch or two of a button! Timing the brew to make coffee in the future is a clear advantage of a brewer with a timer.
In addition, a timer in a coffee maker enables other great features that enable the automation of certain functions. These include keeping the beverage hot for a specific time after it is brewed, auto-timed cleaning reminders, automatically turning off the coffee maker after some time, etc.
Imagine how much time and effort a coffee maker with a timer will save! It will fit into your busy schedule seamlessly and ensure that you have a good cup of coffee ready for you whenever you want. It also eliminates the reason to worry about every minor operation of the device.
A programmable filter coffee maker also allows you to present the strength of the brew. Some brewers offer two strength options: regular and strong. Others come with three strength levels – light, medium, and strong. This function enables you to customize the taste. You can usually preset the strength while setting the time in advance.
Best Filter Coffee Machine with a Timer: Top Brewers to Get Coffee at Your Convenience
Now that you have a basic idea of how a coffee maker with a timer works, let's find out about the best filter coffee makers with timers to suit your daily needs. Check out our list of brewers equipped with different features to cater to the diverse needs of different coffee drinkers. 
Best Overall – KRUPS ET351 Programmable Coffee Maker
Affordable Brewer – Bonsenkitchen Programmable Coffee Maker
Best Brand – Hamilton Beach Thermal Coffee Maker
Best Look – Ninja CE251 Programmable Brewer
Editor's Choice – GE Drip Coffee Maker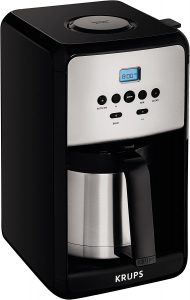 A coffee maker manufactured by a trusted brand, the KRUPS ET351 Programmable Coffee Maker, is one of the best brewers – thanks to its various features. It's easy to use and is the perfect device for a large batch of Java for a group – or (an endless supply for one drinker!
Thanks to the thermal carafe, the coffee remains hot for a long time, and the taste of the coffee remains intact. It is a user-friendly brewer without any mess because of the built-in filter. Plus, its timer allows you to preset the time of your morning beverage. This makes it the go-to brewer!
Pros
Sleek design to fit in small countertop spaces
Pause and Serve option to grab a cup before the brew is completed
One-touch clean option for easy maintenance
Adjustable strength of brew to get the taste you love
Cons
Boxy carafe design that makes pouring coffee difficult for new users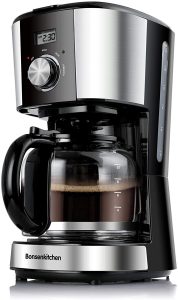 Whenever we think of programmable coffee makers with advanced features, the price of the product becomes a concern. But with the Bonsenkitchen Programmable Coffee Maker, you don't have to worry about spending a fortune to bring home a quality brewer.
This coffee machine is equipped with a brew timer so that you can preset the time of your coffee – 12 hours in advance! An interesting advantage of this brewer is that it prevents dripping to keep your countertop clean. Its warming pad will keep your brew hot for two hours.
Pros
Anti-dry and auto-shutoff features for complete safety
Strength control feature to enable you to customize your coffee
30-sec anti-drip feature to prevent the chances of cleaning a wet mess
Automatic cleaning reminder to ensure proper maintenance
Cons
Operating instructions a little difficult to understand for new users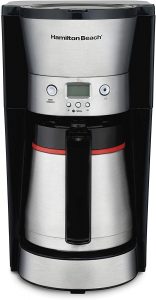 When it comes to coffee makers, Hamilton Beach is one of the most trusted brands on the market. The Thermal Coffee Maker manufactured by this brand is one of the best programmable brewers with a timer. It lets you set the time and strength of the brew in advance.
By using a cone filter in this brewer, you can expect top-quality extraction from the grounds, giving you excellent flavor every time. The thermal carafe with double-wall insulation can keep your brew hot for hours! It also ensures that the taste of the brew remains intact.
Pros
Perfect for a medium-sized group of drinkers
Easy to adjust the brew strength
Pause-and-serve function to grab a cup before the brewing is completed
Long-lasting programmable brewer from a trusted brand
Cons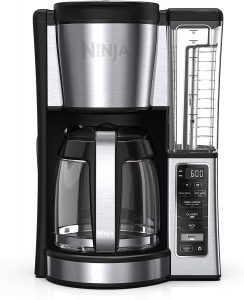 If you're fascinated by a stylish-looking coffee maker, the Ninja CE251 Programmable Brewer is an excellent option for you. You can either choose the stainless steel finish or the black device body. It can upgrade the look and feel of your countertop with its chic look.
As a programmable coffee machine, this brewer makes coffee-making extremely easy. You can set the time of the brew a day in advance and get hot coffee whenever you want, thanks to the hot plate. Maintenance of this brewer is also easy as it is dishwasher-safe.
Pros
Offers two stylish color/finish options
Brew strength options for customized taste
Keeps freshly-brewed coffee hot for up to 4 hours
Removable water reservoir and permanent filter for easy coffee-making
Cons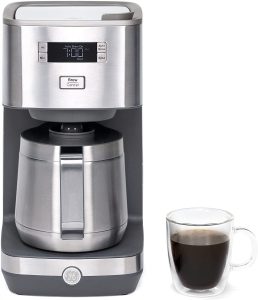 A coffee maker that offers all-round benefits, the GE Drop Coffee Maker is one of the best choices for a brewer with a timer. It is stylish and efficient and makes a great cup of coffee whenever you want, thanks to the programmable option to preset the brew timing.
The thermal carafe is an excellent option if you want to keep the beverage warm without altering the taste of the brew. However, you can also choose the glass carafe if you want the advantage of a precise brew quantity. Its wide showerhead enables even taste, every time!
Pros
Dishwasher-safe reusable filter for mess-free brewing
Adjustable strength option to choose the taste you want
Pause brew option to let you grab a cup in the middle of the brewing process
Designed to prevent dripping and messy countertops
Cons
A little expensive if you choose the thermal carafe
Final Words
At the time of choosing a programmable filter coffee maker, you should also pay attention to some of the other features like cleaning reminders, auto-shutoff, etc. That way, you can enjoy a safe and hassle-free experience of using and maintaining a coffee maker. Don't forget to look for brew strength options for the taste you want!
The best filter coffee machine with a timer can be a great addition to your life if you love a dash of coffee all day but hate the hassle of making and remaking it every time. You can preset the time of the brew – and by the time you roll out of bed or get out of a meeting, your Joe will be ready for you!