20 Fancy Coffee Drinks (+Recipes) You Can Make at Home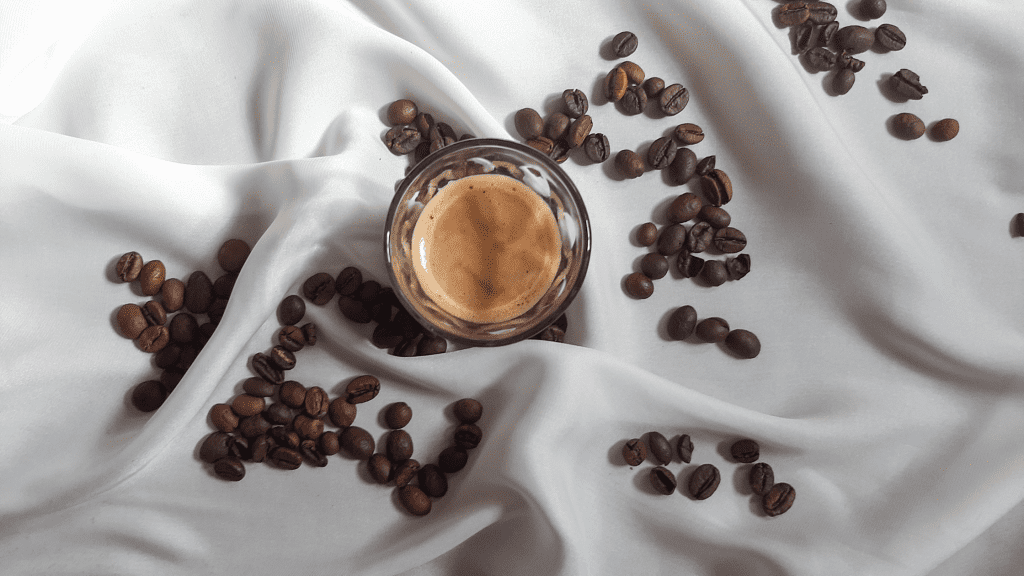 I love coffee, but to be honest, even I sometimes get bored of having the same cup of joe over and over! So on the days when I'm feeling low, for a change, I like experimenting with my coffee recipes.
If you're also looking for some fancy coffee drinks, you can try an espresso martini or an NYE iced coffee cocktail, or the 18 other drinks that I have listed here.
Whether you want to make something for your special one or simply want a change in your regular cup of java, these 20 fancy coffee drinks will be just perfect!
From the classics to some of the Starbucks specials, keep reading to find them all.
1. Ice Cream Coffee
The easiest way to make your regular cup of coffee fancier would be to add a couple of scoops of vanilla or butterscotch ice cream and drizzle some Hershey's Choco Syrup on top.
It is not super difficult to make, but it will still be a significant change for your taste buds.
Click here for recipe.
2. Pour Over Coffee
If you are a hard-core coffee lover and like your coffee black, then this might be the one for you.
It is a type of espresso, but the difference lies in how you make it. Unlike regular espresso, you don't put the coffee ground in the espresso machine and let it do its job. But you do it manually by yourself, where you can control the water temperature, speed, brewing time, etc.
All of those things majorly influence the taste and texture of the espresso. So you get the best taste out of your coffee.
Click here for recipe.
3. Irish Coffee
If you are planning to cut down on your coffee but still want a cup that gets you going for the day, then give this a shot!
This classic hot, creamy, and boozy drink is perfect for getting you out of those winter morning blues. Or when you have to pull an all-nighter.
Originally made as a welcome drink, this caffeinated alcoholic drink is great for trying once in a while.
Click here for recipe.
4. Iced Cinnamon Dolce Latte
Now, if you are a fan of Starbucks' coffee but don't like the hole they make in your pocket, try making this one, and you might never go back!
Inspired by one of the top sellers of Starbucks, this recipe gives a yummy cinnamon-y touch to your daily dose of espresso.
You can make this for someone who isn't a coffee connoisseur but likes the notes of it underneath some sweet and spicy flavor.
Click here for recipe.
5. Ginger Bread White Russian
This drink screams Christmas vibes. If you are wondering how to jazz up your regular cup of joe for this Christmas season, this is the way to go.
This is more like an iced coffee but for grown-ups. It is sweet but not overly sweet, and it has vodka, but the taste isn't overpowering at all!
It will be a great welcome drink for guests or a dessert cocktail to treat yourself. Side it with a coffee cheesecake, and you are sorted!
Click here for recipe.
6. Sugar Cookie Cafe Au Lait
If you are more into the delicate taste of blonde espresso, aka cinnamon roast espresso, then try this Starbucks-inspired drink.
Their version is usually made with non-dairy milk, such as almond milk, but you can definitely tweak it as per your preference.
Every sip seems like you're eating a fresh batch of sugar cookies with a hot cup of coffee.
Click here for recipe.
7. Vanilla Sweet Cream Cold Foam
This drink is perfect if you are a cold brew person and want to add a fancy touch to it.
It requires very minimal base ingredients, and with a few changes here and there, you can make a lot of variations of it.
However, you must have a good frother in hand to make that perfectly airy whipped cream.
Click here for recipe.
8. Espresso Martini
What can be fancier than a Martini? It is strong, sweet, and delicious, with a foamy top. It can be served as an after-dinner drink or a party starter.
If you are preparing a cozy candlelight dinner for your coffee-loving partner, this will impress them more than a bottle of Dom Pérignon!
But it is also great if you are having a little self-pampering day and want to sip on something that is easy to make yet bougie.
Click here for recipe.
9. Maple Vanilla And Brown Sugar Latte
If you like your coffee sweet, then try adding maple syrup instead of sugar. The taste is so good that you would want to make it again and again!
This is why the maple vanilla and brown sugar latte is not just a popular drink at Starbucks but is equally famous at Nordstrom.
It is filled with delicious notes of maple and caramelized brown sugar and takes less than 10 minutes to make!
Click here for recipe.
10. NYE Iced Coffee Cocktail
Even though it says that it is for New Year's Eve, I make it anytime I want to uplift my mood!
The drink feels like the spirit of the holiday served in a chilled glass. From the smokey aroma of fresh-roast beans to rich bourbon and bright notes of citrus, you get it all in every sip that you take.
Click here for recipe.
11. Iced Hazelnut Latte
If you are looking for a coffee drink that has a delicious fruit and nutty taste that can be enjoyed on a hot summer morning, then this is it.
It is like a cinnamon dolce but with a flavor of chocolaty hazelnut. It is best served cold on a lazy afternoon.
Click here for recipe.
12. Toasted Marshmallow Latte
For a comforting and nostalgic flavor that reminds you of the camping days and summer evenings, you can try this toasted marshmallow latte.
If you want to turn your regular espresso into a multi-sensory experience, try out this nutty and chocolaty coffee drink. Pair them with graham cracker cookies and s'mores to have the best time.
Click here for recipe.
13. Honey Oatmilk Cafe Au Lait
Cafe Au Lait is a French version of espresso with milk, but it is different than a latte. In lattes, on top of a freshly brewed espresso shot, we put steamed milk and sometimes a layer of milk foam. Lattes can be cold or hot.
Whereas in cafe au lait, we put only hot milk over French pressed or drip coffee. And it can only be served hot.
If you are dairy free, try this oat milk honey version that is a perfect morning treat.
Click here for recipe.
14. Salted Caramel Mocha
Salted caramel is a popular flavor itself, and by blending it with mocha, you get a unique and indulgent flavor that is simply irresistible.
If you are not a big fan of the chocolateness of mocha, then this drink will provide you with a well-rounded sweet and savory flavor.
Click here for recipe.
15. Macchiato
If you want a good caffeine kick but still want a hint of milk to complement the roasted flavors, then macchiato would be the best pick for you.
The process of making a macchiato is just the opposite of a latte. In a latte, you mix stemmed milk in the espresso. Whereas macchiato is just the opposite, and you pour espresso in a dash of milk. If you prefer a stronger cup of coffee, this is the way to go.
Click here for recipe.
16. French Press Coffee
Coffee experts believe this form of coffee to be the winner due to its full-bodied, rich taste. It is usually the strongest kind of espresso. If you usually make espresso with the drip method and are still not satisfied with the taste, this will definitely be an upgrade.
The pressure used in the french press helps to extract all the oils and aromas from the beans, giving the liquor a rich and concentrated taste.
Click here for recipe.
17. Cafe con Leche
Cafe con leche is a type of latte where you mix equal parts of espresso and milk.
However, unlike the latte, the milk is scaled and added cold. Also, there is no layer of foam on top of it.
If you want to taste the richness of cafe con leche, I suggest using whole dairy milk with Cuban espresso. Only that can give you that buttery-rich flavor.
Click here for recipe.
18. Cortado
Cortado is where you mix equal parts of espresso with hot milk. It is somewhat like a latte, only the serving size is much smaller than a latte.
Also, it has a distinct frothy and sweet taste. It has double espresso shots, so don't even question its strength! It will most definitely kick-start your morning!
Click here for recipe.
19. Coffee Soda
Coffee with soda? Are you serious? Yaa, that was my initial reaction when I heard about it, but don't be so quick to judge!
If you love the frizziness of carbonated drinks and are also a black coffee lover, you will most definitely love this.
It is a cold brew recipe, so it will be the perfect drink for those hot summer days. You can add some orange juice and make it Sun Kiss Summer, or just add fresh lime soda and mint to make Frosty Lime Negra.
Click here for recipe.
20. Espresso Con Panna
The name of this drink translates to espresso with cream. So as you can already guess, it is a bold coffee drink with the richness of whipped cream.
Usually, it is made using a single shot of espresso topped with a big dollop of whipped cream, but you can double the shot based on your taste buds.
If you aren't a fan of the bitterness of espresso but still need that caffeine kick, try this since the whipped cream helps cut down the bitterness of the espresso.
Click here for recipe.
Wrapping Up!
Hope you liked the recipes I compiled and have found a couple that match your preferences.
In case you are a beginner in the world of coffee, you can check out our guide to buying coffee bags or the best filter coffee makers that are worth your money.
Tagged:
coffee
coffee lovers