Best Nespresso Milk Frothers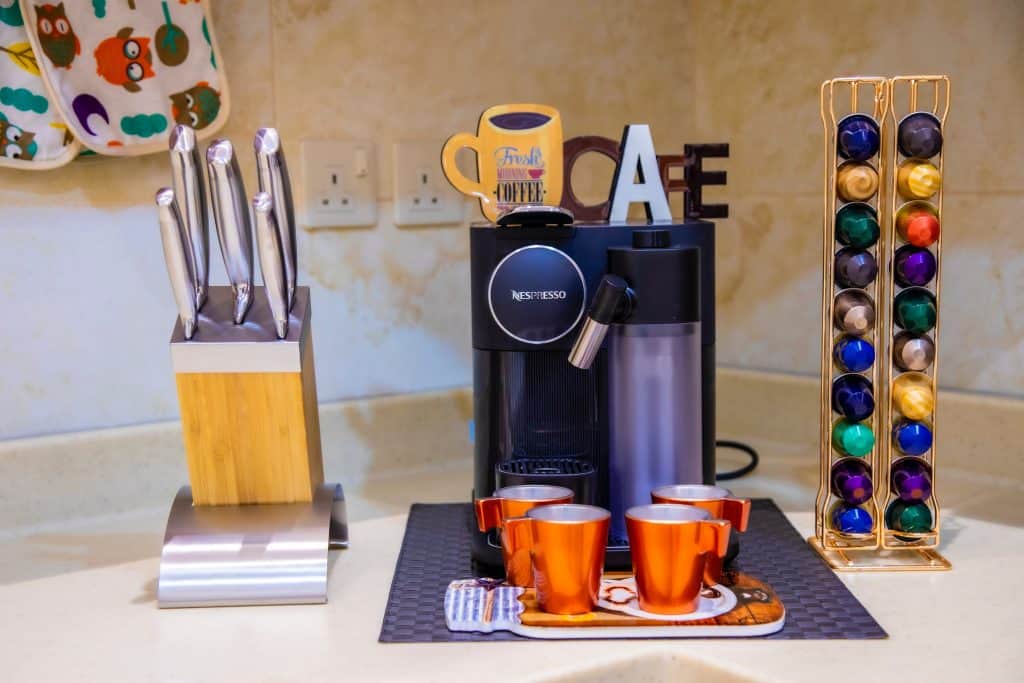 Five bucks daily for a soothing cappuccino at a lovely café? Not everyone can afford that. But what everyone can do is make a delicious cappuccino or latte at home. And what makes a cup of coffee delicious is the perfectly frothed milk.
Luckily Nespresso is here with its barista class milk Frothers that can help you elevate your coffee experience. Frothers can be very expensive or not expensive at all, so proper research is required. And that's where we come for aid.
What exactly is Frothing?
There is nothing quite like enjoying a creamy, sweet foam from the top of your cappuccino or admiring the just perfect latte art the first thing in the morning. Milk frothing is the secret to your cup of happiness!
As described by Paulo Asi, Director of Training at the Seattle Barista Academy, "frothing is when you blow air into your milk in order to create a dense foamy texture." Steaming the milk is the same thing too, but it is usually termed as heating the milk.
Frothing makes the lactose in the milk dissolve more and makes the natural taste come out. Frothing the milk also improves the texture and gives you a creamy and air-filled sip. Let's not forget the latte art enthusiasts!
What to Look for When Buying a Milk Frother?
Frothing milk is all about satisfying yourself. You can always use a blender, a whisk, or a mason jar to froth your milk. You might find the milk becoming bubbly but not giving the right texture. The texture is all it is about: that silky smooth mouthfeel is what we like in our coffee or latte. For that purpose, a milk frother is just the right investment.
Here is the comprehensive list of things you need to consider before making this producitve investment.
1. Type of Milk Frother
Brands seem There are electric frothers that require power supply then there are more portable battery-powered Frothers. Certain cheap models require nothing more than human power. If you want a frother for your café, then an electric frother run by power supply would be a good idea.
Handheld Frothers
Handheld frothers are battery-operated frothers that are comparatively small in size. A small motor turns the whisk continuously at a certain speed which produces foams. After microwaving the milk, put the handheld frother inside the bowl and turn it on.
Automated Frothers
Automated frothers are electrically operated but are not portable like handheld ones. You need a power supply source to keep them running. The heating element fixed inside increases the price. Some even have temperature and consistency controls to adjust from.
Manually Operated Frothers
Manually operated frothers resemble a French press but cannot substitute them. Manual frothers have plungers on the top, which turns the whip inside the jug to rotate when pressed. Like handheld frother, you have to microwave the milk before frothing as it has no heating element.
2. Design
Style and design matter sometimes. If you are planning to keep your frother in a cupboard at home, then style probably doesn't matter for you. But if it is going to be on display, then you might want to consider its looks. A shiny stainless steel frother will definitely look sleek and sophisticated.
If you are looking for a slick, dashing piece of machinery for a better user experience, Nespresso is here with its all-time sophisticated range of milk frothers to choose.
3. Features
The more features, the greater the price. Some milk frothers allow you to adjust temperature and even come pre-equipped with a whole bunch of frothing options for you to choose from. Do consider your budget and priorities before shopping.
Now we are all set to our detailed reviews of our top Nespresso milk frothers.
Best Nespresso Milk Frothers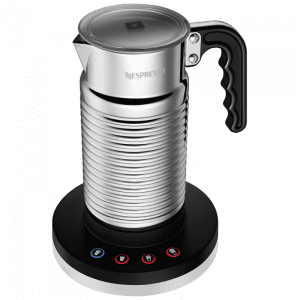 Aeroccino 4 Frother is our highly rated frother, and the rating is justified too. It is an essential tool when it comes to frothing as it provides a wide range of features such as heating the milk option or varying the froth density.
Aeroccino 4 Frother has two preset levels for foam density and can froth both cold and hot milk. One of the levels is for cappuccinos, while the other one is for lattes. The cappuccino foam produced by Aeroccino is "airy" and "bubbly," while the latte foam is "dense and smooth like velvet."
Remember when we talked about how style matters? Aeroccino 4 Frother shines in this area too. The sleek metal body renders an expensive look. Not only that, Aeroccino 4 Frother is dishwasher friendly too, although you can't submerge the base in the water. It might short circuit the wiring.
Aeroccino 4 is clearly a huge plus over its predecessors. But using syrups, or chocolate powder, or any other additives for flavor are contraindicated. It turns out they are using this special ceramic coating so that the hot milk does not damage the vessel, especially the bottom. We would love Nespresso more if it brings a variation of milk frother with this feature as well!
WHAT TO LIKE
Variable foam consistency
Dishwasher-friendly
Fully automated
KEEP NOTE OF THIS
Costly
Difficult to clean by hand due to small opening
A quiet milk frother suitable as both home and office milk frothers! With Aeroccino Plus Milk Frother, you get your milk froth ready in just 70 seconds.
It offers an exceptional capacity of 130 ml for milk froth. With hot milk, you can enjoy a roomy capacity of 250 ml.
Aeroccino Plus is probably the simplest to use. I can totally trust this milk frother with kids as well. What makes Aeroccino Plus lovely is its efficiency to froth almost anything; milk, chocolate, cream. Not only that, I have used it to froth one-third cup of milk and it gave me enough froth for one huge cup of cappuccino. That too on the press of a single button.
For those with diet restrictions such as dairy milk, Aeroccino plus does not disappoint with plant-based milk either. It gives the same results with oat milk, almond milk, and soy milk.
The bottom of the vessel, however, is difficult to clean. The hot milk kind of burns and sticks to the bottom. And even when you use it most modestly, like once or twice a day,it gets worse with time.
WHAT TO LIKE
Simple to use
Takes 70 seconds to froth
Very efficient; works equally well with oat milk and almond milk
KEEP NOTE OF THIS
Burning at the bottom makes it unreliable
Cleaning it is a whole mess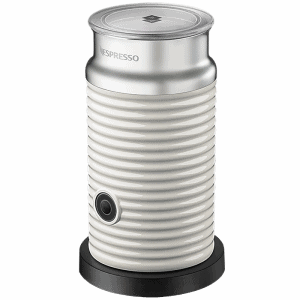 Looking for something even more affordable? Here comes Aeroccino3! You can buy Aeroccino3 for just a hundred dollars, and it does well for its price. The body isn't steel, but it is covered in thick plastic. It helps the liquid inside to retain temperature. Also might look huge from the outside, but the capacity is not that surprising. It can heat one cup at a time and froth half a cup as it doubles in volume.
The Aeroccino3 Milk Frother has plenty of settings adjustable through one button. Hold the button for one second for hot milk frothing and hold the button for two seconds when frothing cold milk.
The design for this frother is well thought out. It is wrapped in a non-sticky and grippy material which helps to lift. Moreover, it doesn't drip when pouring.
Most people have trouble cleaning the equipment after frothing. The milk sticks with the surface and requires hard scrubbing to clean. But Aeroccino3 Milk Frother has a certain type of coating inside the jug which prevents milk from sticking to the surface. To clean the frother, all you have to do is pour warm water and rinse it out. This ceramic coating is a huge pro over most of the electric milk frothers out in the market.
WHAT TO LIKE
Produces quality forth
Not heavy on the wallet
Easy to clean
KEEP NOTE OF THIS
Low jug capacity
The button is sometimes difficult to use
Final words
For the most basic milk frothing at home or office,I suggest you get yourself Nespresso Aeroccino Plus Milk Frother.
If you just started making coffee at home and you intend to get good with it, start with the cheap ones such as Aeroccino3 Milk Frother. It can give you an overview of what you are dealing with. Then in the future, the need for a better frother might arise.Expensive machinery is only for those who know what they are doing. For home-baristas or who like to have all the options in the world, Aeroccino 4 Frother is the way to go.