What makes an Oat Milk Best for Froth?
In recent years, there has been a bit of an surge in popularity regarding the use of non-dairy milk for frothing. And rightfully so. After all, it provides an attractive solution to those who like to have lattes and coffee with milk but can't (or don't want to) consume cow's milk for unavoidable reasons such as:
Lactose intolerance
Prone to acne
On a journey to weight loss
High alert cholesterol levels
Milk allergies
Lactose-free, plant-based milk is the solution. Oat milk is at the top of the list of alternatives. Like all other plant-based kinds of milk, we mix starchy oats with water. Manufacturers add enzymes to break down the starch and then mill the mixture into a fine consistency.
Oat milk has its fair share of popularity and trust among non-dairy foam lovers. It tastes neutral with a mild sweet tinge to it. It is nutrient-rich but not calorie rich. That means you can go ahead with your cup of joe or latte every morning and not go off-track with your weight-loss regimen.
When buying oat milk for the best froth in the world, consider what you are looking for. Is it the taste? Or do you prefer to stay on a budget? Do you want the best shelf-life? Or are you the barista who wants the most delicate froth at all costs?
We'd really appreciate it if you ARE looking for Oat Milks that froth well, that you follow our sponsored link to Amazon Oat Milks that Froth Well when making a purchase – It will really help us to keep publishing helpful content.
What makes an Oat Milk Best for Froth?
Not just oat milk, almost every plant-based milk is preferred to cow's milk for its low fat and protein content. So, plant-based kinds of milk are rather watery. For instance, plain oat milk is nothing but oats and water. At most it may contain some salts. That does sound like a better option than cow's milk, but it comes with a compromise on the froth over your favorite hot beverages.
Protein and fat in cow's milk are the reasons for the fine froth. To compensate for it, brands use two ingredients for heavy milk, and hence better froth:
Polysaccharides or gums or stabilizers
Emulsifiers such as mono- and diglycerides
Fats
Look for gums and emulsifiers or fat in the ingredients for your oat milk. These thickening agents are the secret to getting plant-based milk to go with your definition of the perfect froth.
We purchased plant-based milk of various kinds, including almond, soy, and coconut, and tried to froth them. Some of them did. Others were unyielding. This is what we found:
Milk with high-fat content, or emulsifiers and stabilizers such as gellan gum hold the foam better. But then what's the point of using plant-based milk when you consume fat anyway? Fat-conscious baristas, thus go for the least fat content and more gums and fiber for the purpose.
What do these Stabilizers and Gums do?
Cow's milk contains fats and proteins that form the walls of the air bubbles in the foam. Non-dairy milk, such as oat milk, contains fewer proteins. Besides, they are not stable enough to hold the air bubble enough. The bubble bursts, and the foam collapses. Polysaccharides serve to stabilize the contents together and do not let the bubbles in the foam collapse.
Some of the most used thickening agents in oat milk include guar gum, xanthan gum, carrageenan, and soy lecithin.
What Thickening Agents should I Prefer?
There is hype around the thickening agents, including gums and stabilizers, but some health concerns have also risen. Although gums are obtained from plant sources, some of them contain soluble fiber too. But others are synthetic, and they can be harmful to your health.
Guar Gum and Xanthan Gum are the ones we suggest you prefer. Also, carrageenan and soy lecithin are safe to use too. But what you should avoid are synthetic gums such as synthetic polydextrose.
Which is the Best Oat Milk for Frothing?
Till now, we know that you can either go for fat content or the soluble plant fiber to make an enjoyable froth out of the oat milk.
Before I reveal my favorite, let us go through some of the top picks available in the market.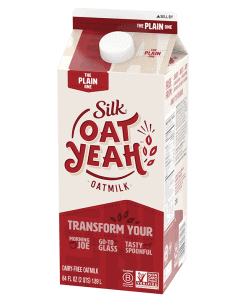 One cup serving has 90 calories.
Carbs: 14 g per serving
Proteins: 2 g per cup serving
Fat: 4 g
Added sugar: 4 g
Silk's Oat Yeah plain oat milk is known for its bigger-than-average size carton of 64-ounces because it makes for a great economic package for oat milk lovers.
It contains sunflower oil to make up for the low protein content. But it's only 4 grams, and 14 grams of carbs and fiber are there to make that perfect froth for your coffee or latte.
Besides, it's fortified with some amazing micronutrients, including riboflavin and calcium and vitamins such as vitamin B12, vitamin D, and vitamin A.
Although Silk has some other variants such as Silk Oat Milk Coffee Creamer and the Vanilla flavored one, Silk's Oat Yeah comes with the optimal fat levels, added sugar for flavor, and carbs make the silkiest froth.
Silk Oat Yeah is the perfect deal for regular latte or coffee drinkers who allow themselves a bit of flavor.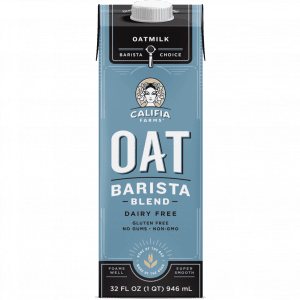 Califia Farms Oat Barista Blend Milk has 130 calories per cup serving.
Carbs: 14 g
Proteins: 1 g
Fiber: 2 g
Fat: 9 g
Added sugar: 3 g
Califia Farms Oat Barista Blend Milk whips up frothy and provides that particular flavor from the dairy times. This oat milk is its awesome barista version with higher fat content for the easy froth and the tasteful cup of latte.
Califia Farms Oat Barista Blend has minimum gums and fiber, only whole carbs. And the sunflower oil makes up for it. Apart from the effortless frothing and flavor, it goes well with the weight-loss enthusiasts on the keto diet.
Until you open the carton, its shelf-life is dependable enough to stock a few in the pantry. For the calorie conscious ones, make it a treat you give yourself once a week!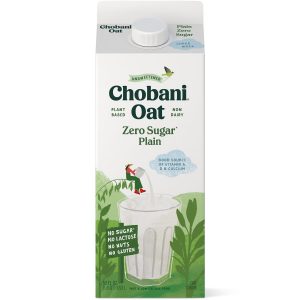 Chobani Oat Zero Sugar Oat Drink has 80 calories per cup serving.
Carbs: 9 g
Proteins: 1 g
Fiber: 3 g
Fat: 4 g
A zero-sugar oat version was a must-have on our list. With 80 calories per serving, it is a winner for weight loss enthusiasts.
Zero added sugar does not limit the fat content, and that's what Chobani has used here. It has a creamy consistency, but of course, is less concentrated. The flavor has its unique pleasantness. You can heat it frothy and creamy for the wake-up caffeine beverage. It caters well to the needs of those on strict weight loss regimen or the diabetics.
Chobani Oat Plain Extra Creamy has 120 calories per cup.
Carbs: 11 grams
Proteins: 2 grams per cup serving
Fat: 9 g
Added sugar: 7 grams
Now, this needs no introduction. We know and trust Chobani. And the label says creamy! There's nothing here to stop you from having a frothy latte or coffee.
Chobani Oat Plain Extra Creamy uses rapeseed oil for that mandatory fat content, plus half a gram of saturated fats. For those who have just started with their home-barista journey, and that too with non-dairy milk, Chobani Oat Plain is the way to go. With its fat, carbs, and fiber content, steaming and frothing are as easy and productive as cow's milk.
We are spending more on replacing dairy milk with Oat milk, so we look forward to the fortification. Chobani Extra Creamy is fortified with vitamins A and D, and minerals especially calcium and phosphorus.
Califia Farms Oat Barista Blend gives 140 calories per cup serving.
Carbs: 31 g
Proteins: 3 g
Fiber: 3 g
Fat: 2 g
Added sugar: 11 g
Here is a bit of change of plans! It turns out we are entertaining some flavored options too.
This option, though, is for cheat days. Or those who don't care much about the calories, fat, or added sugar, just the froth, taste, and latte. We suggest you do use Planet Oat milk dark Chocolate, but only now and then.
I mark it a 5-star for the flavor, the rich texture. Froth is not that easy to bring with Planet Oat milk. But there's a silver lining for those who don't want to give up on the flavor. And that is, you get the trick when you work with it a few times.
Final Verdict
The best oat milk for frothing has to be the Silk Oat Yeah Plain oat milk. It gives the perfect froth. Temperature tolerance is great; froth doesn't get compromised at small temperature changes. Like all other oat milk brands, you have to steam it a little longer than dairy milk, but the Silk Plain Oat Milk results are dependable. Besides, it has the perfect blend of fats for flavor and froth and added sugar for a dense sweet taste.
Oat milk is the perfect replacement for dairy milk for the most-craved frothy coffee or latte. Steam a little longer and be patient. Just a little practice can go a long way in your barista-style froth!