The Best Filter Coffee Machines that Stay Hot – For an Endless Supply of Steaming Java
Whenever you're sleepy at any time of the day, the best way to wake up is by sipping some piping Joe. But don't you just hate it when you want a steaming cup of coffee – but need to make it afresh or reheat an old batch? Thankfully, you can pick from many filter coffee machines that stay hot.
There's a wide variety of filter coffee machines that keep your brew fresh and warm for at least an hour or two. And if you're a true connoisseur, you'll also want to look for features that will allow you to adjust the temperature or preset the time for the brew.
Today, we'll tell you everything you need to know about the best filter coffee makers that keep your brew hot.
How Filter Coffee Machines Keep Your Brew Hot
Traditionally, the best filter coffee makers on the market come with a "keep warm" option. But how does it function? Such brewers either use a hot plate or a thermal carafe to keep the freshly brewed beverage hot for a couple of hours after the drink is made.
A hot plate is a nonstick device on which a glass coffee pot sits with the fresh brew in it. This plate generates heat to keep the drink hot. On the other hand, a thermal carafe is a vacuum-insulated container with a glass lining inside a pot made of metal to keep the drink warm.
These two do not present significant differences in terms of temperature loss. The difference is primarily about usage. The taste of your brew may also depend on the warming mechanism used by a filter coffee maker. Let's take a look at these individually.
a) Taste
A hot plate may change the brew's taste. That's because it can reach 185 F and raise the temperature of the brew, pushing it beyond the ideal heat level. This can make the brew bitter and acidic. Keep the pot on a hot plate for less than 15 minutes to prevent this.
b) Portability
Because of the insulation and the material of which thermal carafes are made, they are much heavier than glass pots. However, hot plates pair with glass pots that are light and easy to carry around. So if you're planning to entertain a lot of people, a glass pot is more convenient.
c) Clarity
Since thermal coffee pots have a thick body, you cannot take a peek inside to see the exact quantity of the beverage inside. On the other hand, a glass carafe sitting on a hot plate has a transparent wall. It allows you to check the exact quantity of the liquid and prevent spillage.
d) Safety
Thermal pots are much safer than a hot plate of a coffee maker. That's because it offers greater chances of scalding if you accidentally touch it when it's on. However, a thermal plate does not pose any such threat as it doesn't expose you to any heat source.
e) Maintenance
Cleaning the inside of a thermal carafe may be inconvenient, but washing the pot after use should keep it clean. On the other hand, the hot plate of a coffee machine is easier to clean as you can put it in a dishwasher. But it is prone to rust and peels that need effort to clean.
Thermal carafes cost more as they can keep coffee warm without over-brewing it, maintaining its flavor. But they are less portable. A hot plate keeps the brew warm for a little longer, though it may change the taste of the coffee. It offers a pocket-friendly option.
Is Temperature Control Important in a Filter Coffee Maker?
At the time of buying a filter coffee maker, don't forget to consider if it offers the option to control temperature. Hitting the right heat level can help you attain the perfect taste and aroma. On the other hand, your Java experience can be ruined if the water is too hot or too cold.
When the water is too cold, it will fail to extract the flavors from the coffee grounds. But if the water is too hot, over-extraction will make your beverage bitter and acidic. According to the National Coffee Association USA, the ideal temperature of water while brewing is 195-205 F.
So, if you're a coffee patron, find the best filter coffee maker with temperature control. If you're new to brewing, it's a good idea to brew your beverage at 200 F before you put it on "Keep Warm" mode. Eventually, you can experiment with heat levels and coffee grounds.
Best Filter Coffee Machines that Stay Hot To Keep Your Brew Warm
Now you know how a filter coffee machine works to keep your brew hot. So, it's time for you to know about our favorite filter coffee makers that can keep your Joe warm. Check out the list below and pick a device that suits your needs and budget!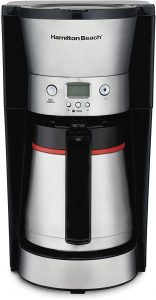 Hamilton Beach is one of the most popular coffee machine manufacturers. Its programmable coffee maker (46899A) comes with a thermal carafe that can keep coffee warm for 8-12 hours. It has a stainless steel body, and can brew Java for 10 people at once.
Pros:
Three brewing options for three levels of boldness
Cone filter to distribute water evenly in the grounds for excellent flavor
Auto-pause option that becomes effective when you remove the carafe
Can be programmed in advance to set the brew time beforehand
Cons:
Dripping or spillage issues experienced by some users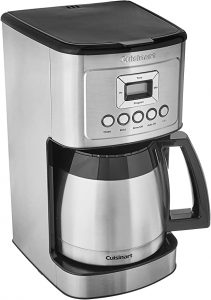 Cuisinart, another trusted name, offers a programmable brewer that comes in an attractive silver color to transform your kitchen space. Its thermal carafe holds 12 cups, though you can choose the 1-4 cups option. It can keep your brew hot for at least 3 hours.
Pros:
Brew strength control to choose between two levels of flavor boldness
24-hour programmability to preset your brew time
Convenient options like self-cleaning, auto-off, ready alert
Water window to view the exact filling easily
Cons:
Synthetic smell noticed by some users, but only in the first few cups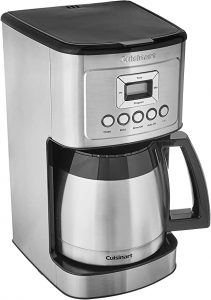 The Bonsenkitchen Programmable Coffee Maker can be a convenient addition to your daily life. You can wake up to freshly made bold coffee, and the thermal carafe with a capacity of 10 cups will lock the flavors and temperature for hours. It saves energy, too!
Pros:
24-hour programmability to preset the time of the brew in advance
30-sec anti-drip feature, so the brewer stops dripping after removing the carafe
Two brew strength modes to choose bold or regular coffee
Easy-to-clean, removable, and reusable filter basket
Cons:
Leakage noticed by some users when water is filled up to the 10-cup mark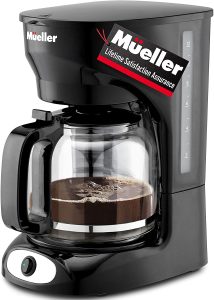 Looking for a coffee maker that will let you serve a large group? Mueller's drip coffee maker, with a capacity of 12 cups, is the ideal brewer. You can also make 2-4 cups. The borosilicate glass carafe can sit on the warming plate and retain heat until you turn off the device.
Pros:
Permanent filter that's easy to use, remove, and clean
Advanced anti-drip feature to keep your countertop clean
Auto "Keep Warm" option to retain the temperature of the brew
Dishwasher-safe glass carafe with an ergonomically designed handle
Cons:
Leakage from water reservoir noticed by some users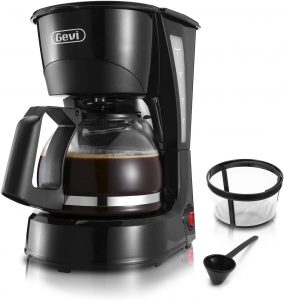 Planning to buy a small filter coffee maker for your personal use at home or office? Gevi's small coffee maker is a compact and pocket-friendly option for you. It can make 4 cups of coffee – and with the warming plate and glass carafe, the brew remains hot for a long time.
Pros:
Frills-free design for easy operation, with a single ON/Off switch
Keep Warm option to keep your brew hot until you turn off the device
Removable basket filter that you can reuse after easy cleaning
Auto Pause option to grab a cup before the brewing cycle ends
Cons:
Plastic smell noticed by some users
Final Words
While browsing through the various options for the best filter coffee machines that stay hot, don't forget to stop and reconsider your needs. Are you a heavy coffee drinker who needs an endless supply of hot Java all day? Are you going to serve a large group?
It will help if you also consider the device's price, how the device's heating mechanism will affect the taste of the beverage, and the length of "keep warm" time supported by the coffee maker. We hope this guide helps you in your purchase process.
Is there any other factor that's important for you? Don't forget to let us know!