Filter Coffee Machine Reviews: Top Picks for the Perfect Morning Coffee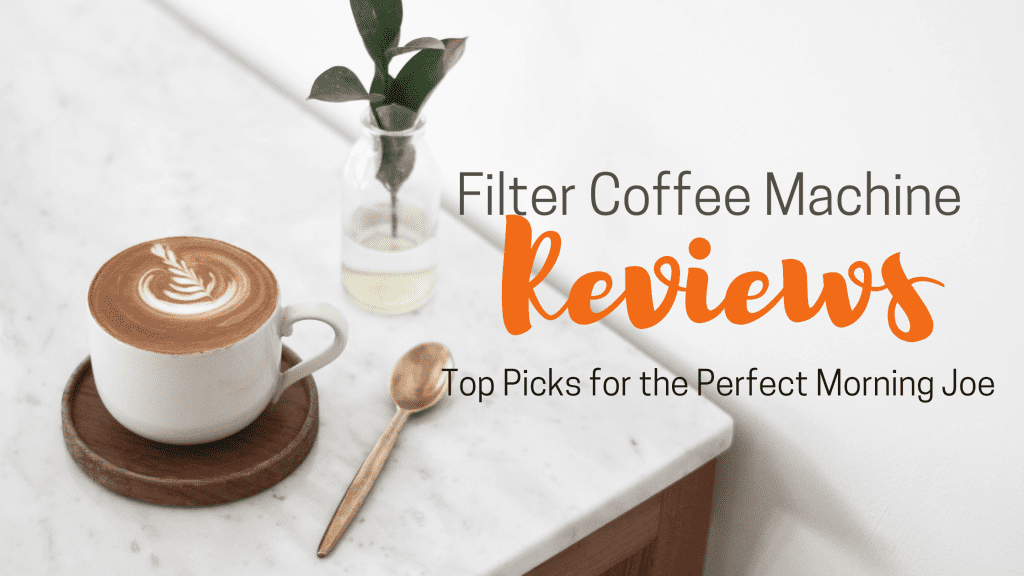 Filter coffee machines are a favorite for their simplicity and ease of use. This popularity has led to the introduction of several models and brands of filter coffee machines as well. This is good news, since competition brings out the best deal. And at the same time, it's bad news since deciding on one is very difficult.
Keeping in mind the design, style, and efficiency, along with the user interface and quality of the brew, I have shortlisted some of the best picks from the market. This will surely help you in making an informed decision when buying a Filter coffee machine.
The 4 Best Filter Coffee Machines
Here we go with our tops picsk: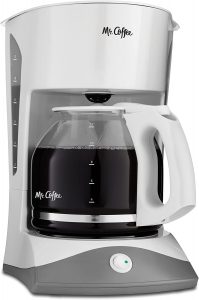 Mr. Coffee 12-Cup Manual coffee maker is just the right mix of the advanced features and the old barista techniques, but only the fruitful ones and in just the right ratio.
Mr. Coffee uses a filter basket that allows even leveling of the coffee grounds so that the water passes through them evenly, giving you a flavorful cup of coffee.
The grab-a-cup auto pause feature lets you stop the brewing cycle to have your cup of coffee whenever you want. You can also select the strength of your brew by the strong brew selector feature.
The programmable timer feature is the most notable one. You can pre-inform your coffee maker the time you want your coffee to be brewed.
It features a hefty capacity of 12 cups, enough to entertain a whole family or bunch of friends with a single refill. The filter basket is of lift-up type, so you can easily take it out and clean it whenever you want.
Pros
Pretty straightforward to operate
Automatically turns off in 4 hours
Even water dispersion, hence flavorful coffee
Programmable timer
Strong brew selector feature
Cons
Does not have a milk frother
The coffee does not stay hot for long
The body is mostly plastic; not so durable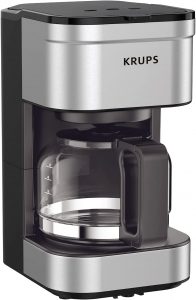 What we love about KRUPS Simply Brew Compact Filter Drip Coffee Maker is that it uses a coffee pot instead of a sprout. This considerably reduces the mess while brewing coffee.
The KRUPS Simply Brew Compact Filter Drip Coffee Maker comes with a permanent, reusable coffee filter, and significantly reduces the cost of daily brew.
Krups is a very practical filter coffee option, since you can take out the jug while brewing, pour yourself a cup and put it back. And it keeps the coffee warm for quite long.
The jug also has a dependable brewing capacity of almost 5 standard coffee cups, that can easily serve a small family or an average company of friends.
It is made of stainless steel, which provides a durable body as well as a modern looking finish to your drip coffee maker placed on the kitchen counter.
Pros
Parts are detachable and dishwasher safe
Brushed stainless steel, durable body
Permanent reusable coffee filter
The thermos pot is quite handy
Auto shut off feature saves energy
Cons
It doesn't have a timer
Makes noise while brewing
It uses ground coffee only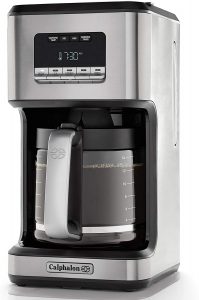 Calphalon 14-Cup Programmable Coffee Maker has one of the biggest coffee jugs brewing over 3 liters of coffee. The coffee machine's design is futuristic and looks classy on the counter.
Calphalon's advanced technology allows setting timers on the machine. That means you can set a specific time before going to sleep, and it will start brewing your morning cup automatically. This way, you won't have to wait for it to prepare your coffee.
As you will be using the coffee jug a lot, Calphalon has made the grabbing handle ergonomic to reduce the chances of dropping. Furthermore, the pouring tip is anti-drip to avoid coffee drops on the counter.
The customizable brewing strength lets you enjoy exactly what you want. For strong flavor use the Strong Brew option to suit your taste.
Calphalon's innovative showerhead technology is designed for an even distribution of water, saturating the coffee grounds for enhanced taste. Fast Brewing heats the coffee up to the optimal point in half the usual time required.
Pros
Brews in half the average time
The heating plate keeps the coffee warm for over 40 minutes
Large coffee jugs making 14 cups at a time
Programmable timer to set the brewing time
Customizable brewing options
Cons
Control menu can be confusing
It does not support pods or capsules
The glass body is not durable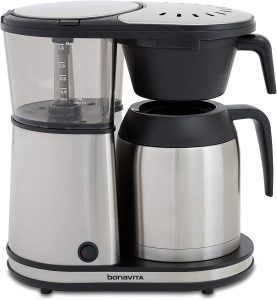 Bonavita Connoisseur is known for its 8-cup carafe, and you get that in just 6 minutes. Another famous feature is its pre-infusion mode. It allows the water to stay in the coffee grounds a bit longer and hence extract the flavorful coffee oils even better.
Bonavita Connoisseur maintains a sufficient average temperature when you are not brewing and makes it easy for you to pre-heat. It owes its efficient heating and speed to its powerful 1500-watt heater.
Showerhead extraction and flat bottom Filter basket ensure the most efficient coffee extraction. You get an audible signal when the brewing signal ends.
The water tank and the drip tray are of high-quality, durable material and are detachable. With the wipe-down surfaces, you can easily clean your device whenever you want.
Your cup of drip coffee or the 8-cup rich carafe is just one touch away!
Pros
One-touch operation
Hanging filter basket for better extraction
8-cup carafe in just 6 minutes
Dishwater-safe and BPA-free plastic
Pre-infusion mode offers traditional, rich drip coffee
Cons
It does not have an auto-brew option
Does not support lattes and cappuccinos
Design is not so attractive
How to choose the Right Filter Coffee Maker for your Home or Office
While looking for a Filter coffee machine, the following factors can help you make a better decision:
1. Supply and Demand
Before you head out to buy yourself a life-easing barista, evaluate what you expect. Do you have a large family? Are you having friends over very frequently and those too with coffee needs? Or do you expect your coffee machine to serve you only?
If your case is the former one with high demand, go for a Filter coffee machine that can brew large amounts of coffee at once. Otherwise, one that brews a perfect single cup is fine.
2. Milk frother or Steam Wand
Filter coffee may be your first choice, and rightfully so because it is a healthier coffee choice too. But treating yourself to a frothy cappuccino or a latte is no sin. For that, a steam wand or a milk frother can go a long way.
3. Easy Maintenance
Filter coffee machines are like life partners. They are supposed to stay there for quite a long time. And that too, on the kitchen counter where you can use them easily every day. And so, maintenance and regular cleaning are indispensable.
Look for a Filter coffee machine that has detachable and dishwasher safe parts. Or if not that, wipe-down surfaces will do. Calphalon Programmable coffee maker can be a good choice in this case. Just a sweep up and down, and it shines like a star!
4. Customization
Customization and options such as temperature and brew-strength can either be a make or a break for you. Customisation may be a must-have if you like to be your own barista.
But if you do not like too many options, just a simple, basic cup of drip coffee, a filter coffee maker with default settings and a single button operation is definitely your thing.
5. Preheat Time
How much time a machine takes to preheat and get ready to brew makes a huge difference. If it takes ages, you may delay your coffee craving in the frustrating anticipation of it. Not just that, how long does the coffee stay hot plays an equally important role.
Look for filter coffee machines that stay hot before you find yourself regretting your decision.
6. Counter Space
It's no more than a treat if your filter coffee maker brews the perfect coffee and also looks compact and elegant. And it does not confiscate the kitchen space!
You can never say no to the filter coffee machines that fit anywhere.
7. Programmable Timer
You may or may not like to pay for this feature. But it is really life-changing. Just tell your brewer when you need the brew ready, and it will do that for you.
This matters even more for those who like to have their morning punch before even opening their eyes.
Conclusion
Make an informed decision when you buy something like a filter coffee machine because you are going to use it daily and for a long time. The top picks are there to help you, in addition to the extensive buying guide.
Figure out your priorities, do your research, and treat yourself with the perfect filter coffee machine.