Filter Coffee Machines with a Milk Frother: Top Picks for Frothy Coffee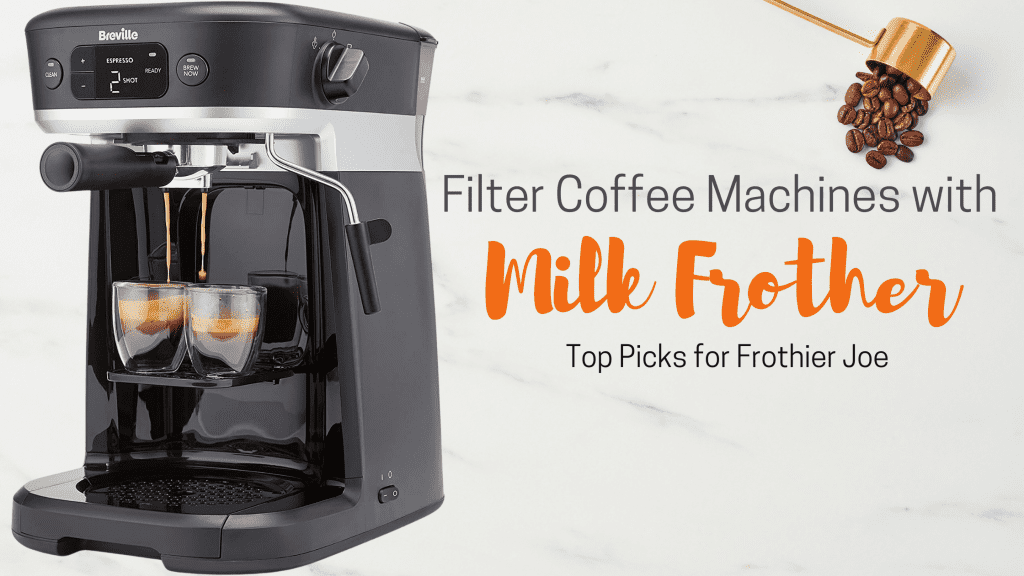 Why do we not expect more than just drip coffee from a filter coffee machine? Sure, a quick black coffee is all one needs, but we don't mind lattes and cappuccinos and a silky crema on top.
With so many in the market, thankfully, you can now enjoy filter coffee machines with an integrated steam wand or a milk frother too. The milk frother has proved to be a very useful feature since it reduces the cost of buying a separate one.
Besides, who doesn't like a frothy, creamy cup of coffee when compared to a bland, basic, black coffee.
After quite an extensive research of the options available, we have brought you the best filter coffee machine options that make perfect drip coffee with a perfect crema on top.
4 Best Filter Coffee Machines with Milk Frother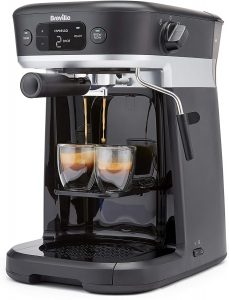 Breville all-in-one coffee house lets you enjoy both filter coffee and capsule coffee, whatever you feel like.
Just put the relevant attachment, such as the coffee capsule, and the machine automatically detects the attachment used. It adjusts its brewing settings accordingly, and you get your coffee in a single touch.
For a perfect espresso, an all-in-one coffeehouse features a dual nozzle and 15-bar pump system. For an even rich crema on the top of your espresso, the steam wand is always there.
Breville all-in-one filter coffee also lets you use your favorite ground coffee.
Some drip coffee fans say that Breville all-in-one might be trying to do way too much than it efficiently can with its plastic body. For instance, you cannot get a single cup of espresso in one go. The machine has a minimum setting of a 4-cup espresso. It's a waste of your ground coffee!
Pros
Compatible with all Dolce Gusto capsules
Makes espresso, filter, and capsule coffees
Automatic attachment detection software
10-cup carafe capacity
The pump system and frothing wand make rich crema
Cons
Only one optimal temperature setting
Clumsy, plastic body
It makes a minimum 4-cup espresso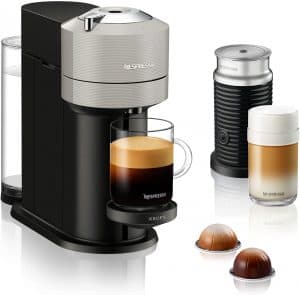 Nespresso Vertuo Next offers the quickest one cup coffee approach: the machine takes no more than 25 seconds to heat up. That means you get your coffee exactly when you need it the most.
Nespresso Vertuo Next is a house of advanced technologies that keeps your filter coffee machine up to date. In addition to the Bluetooth and wi-fi options and the automatic software update, you never need to change or adjust the machine settings. The machine uses barcode-enabled capsules, and recognition is the secret to automation.
The Nespresso Centrifusion system is a rapid pod spinning technique to produce extraction pressure as compared to the old pump system. This feature allows you to enjoy a thicker, airier crema on top of your espresso. The milk frother
Nespresso Vertuo Next has five cup sizes, each using a different pod size:
Carafe
Mug
Gran Lungo (medium size)
Double espresso
Espresso
Each one of them is just one button away!
Pros
Slim design with chromed and premium color schema
Environment-friendly; made from recycled plastic
Coffee size options are plenty
Pod scanning technology ensures optimal automation
Packed with advanced technology options
Cons
It uses only the Vertuo bar-encoded capsules
Crema is a bit too foamy
Temperature setting does not make a very hot coffee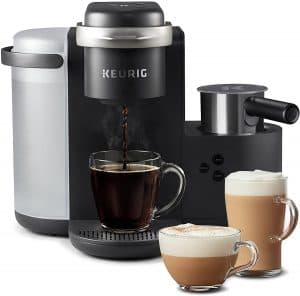 Keurig K-café stands out among its Keurig counterparts because it comes with a milk frother that can froth both hot and cold kinds of milk. Yes, you can have your iced lattes too! The unique shot feature lets you prepare a strong espresso shot as a base for milk frothing. And we love that!
The smart start feature lets you just come and select your cup size. No waiting for the machine to pre-heat!
Keurig K-café coffee maker boasts a huge 60 ounce-water reservoir that waits patiently for a refill. Besides, in addition to the milk frother, drip tray, and K-cup holder, the water tank is removable and dishwasher safe.
The auto-off feature turns off the Keurig coffee maker exactly 2 hours after the last brew, making it energy efficient.
Keurig also has a descaling reminder that tells you when to run the solution and clean the machine. Regular maintenance really takes your coffee maker a long way!
Pros
Dishwasher safe; easy to clean
Four coffee sizes: 4,6,8 and 10 oz.
You can brew with your ground coffee
Makes coffees, lattes, and cappuccinos on a button press
Strong brew and shot options
Cons
Does not make filter coffee carafes
Takes too much counter space
No auto-cleaning features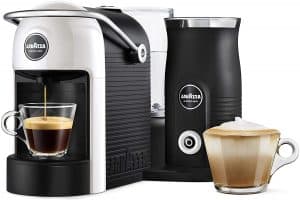 With its cappuccino milk frother, Lavazza Jolie is known for its creamy, best-tasting espresso. While other brands and machines flaunt more on their automation features and advanced technology, Lavazza Jolie leaves everything behind and focuses on the coffee alone!
Lavazza Jolie rocks in the list of the best small filter coffee machines that fit anywhere. It takes little space and hence requires no hassle when it's time to refill its tank.
Once you select the start button, it warms up and waits for nine minutes to brew your coffee. Otherwise, its energy-saving features take it to stand-by.
For a standard quantity of espresso, it takes just 30 seconds. Beyond everything, you'll find the espresso incredibly rich and flavorful.
What turns us off is it has just one control button. That means you practically have to stand and wait in front of the counter and stop it manually for your desired quantity.
Pros
Does not clog the kitchen counter
Semi-automatic capsule ejection
Quietly operating
Cons
You need to stop it manually
Only compatible with Lavazza pods
It does not offer coffee size options
How to Choose the Right Filter Coffee Machine with Milk Frother?
Coffee machines come in a broad price range, from anywhere between 30 and 1000 pounds. No matter what your price range is, your filter coffee machine or drip-coffee machine is an investment. Because it will be there on your kitchen counter for quite a few years before you get bored or the machine stops working.
On these grounds, we suggest you research well before buying your family a barista!
Dual Cup functionality
If you are looking for a drip coffee machine with a milk frother, and you are a couple, or you have company very frequently over, you would like to use the double cup feature.
Some machines love to do that super comfortably. This is different from the carafe feature since single-serving cup sizes are different for the carafe and individual mugs. The double cup functionality feature lets you get your coffee in your favorite cups.
High-Pressure Extraction
Do a little research on the extraction technique and pressure used by the filter coffee machine. The higher the pressure, the better extraction.
Better extraction lets you enjoy a dark, Italian style espresso. What else do you need in life?
Adjustable height
The height of your drip tray should be adjustable. This gives you the freedom of getting your coffee in multiple sized mugs or jars.
Auto-Cleaning Functions
Coffee machines, especially drip coffee machines, have daily-use importance. Cleaning and maintenance should not hinder or bust your mood for a quick coffee. Since modern filter coffee makers are bringing novel self-cleaning features, it's better if you get one yourself too.
If not that, it's a must-do to clean your coffee machine regularly for its efficient working and long-life.
Easy Bulk Brewing
Recent drip coffee machines have a full-carafe option with timing features. This lets you brew several cups of coffee at the same time, and your company can enjoy it without delay.
This feature is more important for large families. The timing feature also lets you keep your brew ready throughout the day so that your craving won't have to wait for a punch.
Coffee Size Options
Modern drip coffee machines come with at least four different coffee cup sizes. Those with five get an edge!
Diverse coffee size options let you adjust your coffee dosage throughout the day. Besides, it offers a coffee economy too. For people who like to enjoy different sized coffee cups, you serve them accordingly without anything going to waste.
Conclusion
Filter coffee machines are a go-to for those who want a simple, basic, but quick cup of coffee. And filter coffee machines with a milk frother are nothing but a pro since they bring that little extra to your simple, basic filter coffee machines.
Look for your priorities and find yourself the best filter coffee machine with milk frother for an unlimited, steaming, frothy coffee!